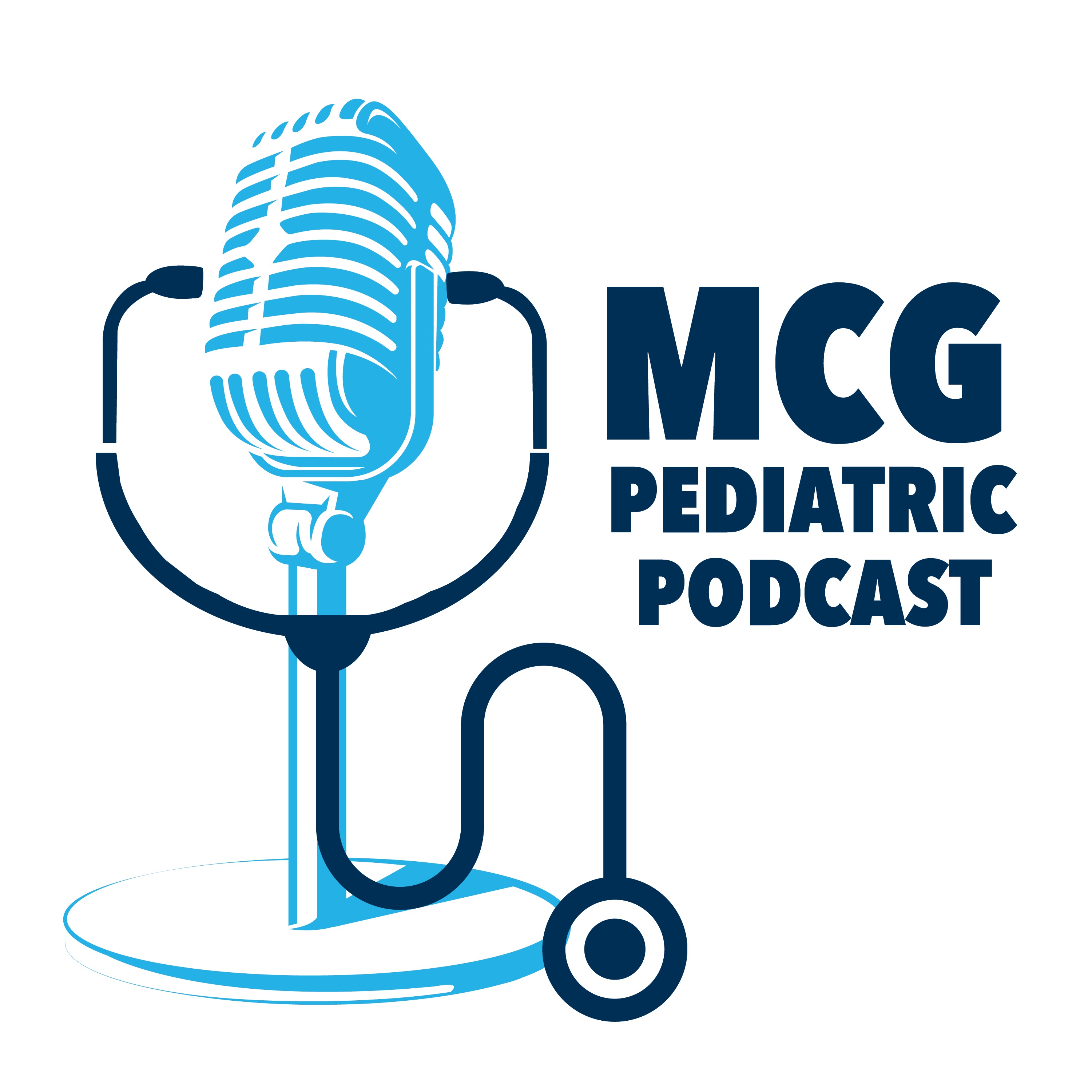 Dr. James Crownover, an assistant professor of Primary Care Sports Medicine and Physical Medicine and Rehabilitation at Augusta University, joins Drs. Brynn Ehlers and Lauren Lim to discuss the management of pediatric concussions.
What exactly is a concussion and when should you be concerned for something more?
What are the must-not-miss symptoms and exam findings?
What tools are available for the initial sideline assessment of sports-related concussions?
Finally, what is the best way to get our pediatric patients back to school and play after suffering a concussion?
All of this and more from the Department of Pediatrics at the Medical College of Georgia.
Special thanks to Dr. Rebecca Yang, Dr. George Hsu and Dr. Jacob Eichenberger who also contributed to this podcast episode.
Citation:
Crownover, J. (Host). Ehlers, B. (Host). Lim, L. (Host); Eichenberger, J. (Contributor); Hsu, G. (Contributor) Yang, R. (Contributor).  (2020, Aug 20). Pediatric Sports Related Concussions. (S1:13) [Audio Podcast Episode]. MCG Pediatric Podcast. Medical College of Georgia Augusta. https://mcgpediatricpodcast.podbean.com/e/concussion-1597794205/ 
Please subscribe, rate and review.
Check out our website at https://www.augusta.edu/mcg/pediatrics/residency/podcast.php
Want further reading on this topic? Check out this article published in Pediatrics on sports related concussions in children https://pediatrics.aappublications.org/content/142/6/e20183074
References: 
Halstead ME, Walter KD, Moffatt K. Sports-Related Concussion in Children and Adolescents. Pediatrics. 2018; 142(6): e20183074; DOI:
https://doi.org/10.1542/peds.2018-3074
Castile L, Collins CL, McIlvain NM, Comstock RD. The epidemiology of new versus recurrent sports concussions among high school athletes, 2005-2010. Br J Sports Med. 2012;46(8):603–610
Meehan WP III, d'Hemecourt P, Comstock RD. High school concussions in the 2008-2009 academic year: mechanism, symptoms, and management. Am J Sports Med. 2010;38(12):2405–2409
Rosenthal JA, Foraker RE, Collins CL, Comstock RD. National high school athlete concussion rates from 2005- 2006 to 2011-2012. Am J Sports Med. 2014;42(7):1710–1715
Marar M, McIlvain NM, Fields SK, Comstock RD. Epidemiology of concussions among United States high school athletes in 20 sports. Am J Sports Med. 2012;40(4):747–755 
Meehan WP III, d'Hemecourt P, Collins CL, Comstock RD. Assessment and management of sport-related concussions in United States high schools. Am J Sports Med. 2011;39(11):2304–2310 
O'Connor KL, Baker MM, Dalton SL, Dompier TP, Broglio SP, Kerr ZY. Epidemiology of sport-related concussions in high school athletes: national athletic treatment, injury and outcomes network (NATION), 2011- 2012 through 2013-2014. J Athl Train. 2017;52(3):175–185
Bryan MA, Rowhani-Rahbar A, Comstock RD, Rivara F; Seattle Sports Concussion Research Collaborative. Sports- and recreation-related concussions in US youth. Pediatrics. 2016;138(1):e20154635
Setnik L, Bazarian JJ. The characteristics of patients who do not seek medical treatment for traumatic brain injury. Brain Inj. 2007;21(1):1–9
Wallace J, Covassin T, Nogle S, Gould D, Kovan J. Knowledge of concussion and reporting behaviors in high school athletes with or without access to an athletic trainer. J Athl Train. 2017;52(3):228–235
Chrisman SP, Quitiquit C, Rivara FP. Qualitative study of barriers to concussive symptom reporting in high school athletics. J Adolesc Health. 2013;52(3):330–335.e3
Pfister T, Pfister K, Hagel B, Ghali WA, Ronksley PE. The incidence of concussion in youth sports: a systematic review and meta-analysis. Br J Sports Med. 2016;50(5):292–297
Wallace J, Covassin T, Beidler E. Sex differences in high school athlete's knowledge of sport-related concussion symptoms and reporting behaviors. J Athl Train. 2017;52(7):682–688
Kuppermann N, Holmes JF, Dayan PS, et al; Pediatric Emergency Care Applied Research Network (PECARN). Identification of children at very low risk of clinically-important brain injuries after head trauma: a prospective cohort study. Lancet. 2009;374(9696):1160–1170
Sparling P, Bilkasley M. Prehospital treatment of athletes wearing a helmet and shoulder pads. Journal of Emergency Medical Services. 2015;10(40).
Pearce MS, Salotti JA, Little MP, et al. Radiation exposure from CT scans in childhood and subsequent risk of leukaemia and brain tumours: a retrospective cohort study. Lancet. 2012;380(9840):499-505. doi:10.1016/S0140-6736(12)60815-0